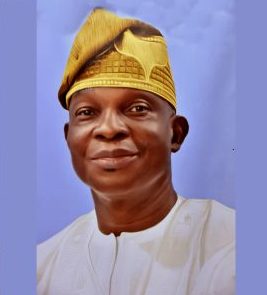 Mr Buki Ponle is a committed, passionate and creative professional with more than 40 years of progressively responsible experience in journalism, mass communication and public information.
He had his early education at the Modakeke High School, Modakeke, in present day Osun where he obtained the West African School Certificate.
To prepare for his chosen profession of journalism, this veteran journalist obtained a diploma in Mass Communication at the University of Lagos in 1977, and also went for further studies at the International Organisation of Journalism located in Prague, Czech Republic.
From 2000 to 2004, Ponle returned to UNILAG where he would obtain the B.Sc and M.Sc degrees in Mass communication.
Just as his meteoric rise in academic accomplishments, Ponle would make his mark in his chosen vocation of journalism, rising from a reporter to the esteemed position of the Managing Director of the News Agency of Nigeria (NAN)
A child rights' advocate who has been contributing to children's survival, protection, development and participation, Ponle as Head of Health, Population and Environment in the NAN had been engaged in building media network across Nigeria to report responsibly on health, children, population, environment, gender and development.
As pioneer Coordinator of the United Nations Population Fund (UNFPA) in NAN, he was fully in charge of all UNFPA/ILO Projects.
Among his loaded schedules of duty were oganising seminars and training programmes on health, gender, population, environment and development and other development issues, building good working relationships with UN agencies, international
development partners, civil society organisations, cultural and faith-based organisations, local NGOs working on health, children, gender, human rights, development as well as poverty-reduction issues.
He was also involved in building good working relationships with journalists and media owners in change perceptions as well as to effect behaviour change in population and development concerns.
A consumate player in Nigeria's media establishment, Ponle on retirement in 2013,  worked as Editor-in-Chief and Chief Executive Officer of The Nigerian Expression (TNE), an online publication which soon established an eminent position in the newspaper market.
Ponle is indeed a man of many parts, being a Fellow of the Nigerian Guild of Editors, member of Nigeria Union of Journalists, member of National Childrights Implementation Committee, Nigeria, and member, International Society for Prevention of Child Abuse and Neglect (ISPCAN), USA.
He had also been a Project Coordinator for Media Partnership for Population and Development Activities, a UNFPA/NAN Project (2000 – 2007); Project Coordinator, "Strengthening Media Capacity to Eliminate Child Labour/ Child Trafficking", an ILO/IPEC/NAN Project (2003 -2005) and Writer for "Progress of Nigerian Child", a UNICEF publication (1995 to 1997).
Ponle was also Media Consultant to Global 2000 (Guinea Worm Eradication in Nigeria (1995 to 1998 (2013); Member, Committee for the preparation of Nigeria's Child Rights' Decree, now Child Rights' Act (1994 to 1998); Member, Committee to update Nigeria's National Population Policy in 2005 and Member, Committee for the Development of Manual on Child Labour, for use in Colleges of Education in Nigeria (2004).
Furthermore, he had been a Member, Programme Coordinate Mechanism on Global Sanitation Fund (2010 – 2013) and Coordinator, Resource Person and Event Manager for many UNFPA sponsored workshops (2014), UNIFEM (UN Women)-sponsored workshop on Gender and Development (1996- 1997) and UNCEF-sponsored activities on Children, Adolescents and Reproductive Health since 1991 and other related workshops on development.
A widely travelled journalist and team player, the month of September is especially auspicious for Ponle who joined NAN as a pioneer member of staff on 1st September, 1978, retired as a Director on 1st September, 2013, after 35 years of meritorious service, and returned some seven years after on 1st September, 2020, as Managing Director following his appointment by President Muhammadu Buhari.
Ponle is happily married with children.