By Salisu Sani-Idris
Gov. Bala Mohammed of Bauchi State has emphasised the need for governors to have a peer review mechanism on Hajj management with a view to promoting good governance.
Mohammed, who is currently performing Hajj in Makkah, the Kingdom of Saudi Arabia, made the call while answering questions from newsmen.
He said that his administration built an ultra modern Permanent Hajj Transit Camp, which is the biggest in Nigeria and West African sub-region, out of commitment to enhance service delivery and good governance.
"Bauchi State Hajj Camp is part of good governance. The majority of our people going for Hajj is part of their religion and the annual activity that they do. They also pay for this and we should show them good governance from the point of take off.
"I built that Hajj Camp as a benchmark for others to copy. Because we are not just proud of it, we want to show that we are one of the best and the National Hajj Commission of Nigeria (NAHCON) has also recognised this.
Bauchi State Ultra Modern Permanent Hajj Transit Camp[/captio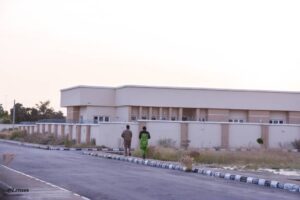 "And for my colleagues and other governors, we should have a peer review mechanism because they have something to learn from this and I can also learn from other governors on the aspect of good governance," said Mohammed.
The News Agency of Nigeria (NAN) reports that Bauchi state bagged a prestigious award of excellence as the state with Modern Hajj Camp in Nigeria and overall in camping activities during the 2022 Hajj operation.
The Independent Hajj Reporters (IHR), a civil society organisation monitoring Hajj and Umrah activities in Nigeria and in Saudi Arabia, organised the Hajj Lecture/Award on Sept. 22, 2022, at the National Mosque Auditorium, Abuja. (NAN) (www.nannews.ng)
Edited by Muhammad Suleiman Tola