By Tosin Kolade
The Nigeria Integrated Water Resources Management Commission (NIWRMC), has commenced the review of its laws that would enable it sanction all unlicensed water users in the country.
Mr Magashi Bashir, the Executive Director of the commission, made this known on Monday, at the opening of the Review of Water Use Licence Terms and Conditions Meeting, in Abuja.
According to Bashir, there is need to standardise all documents targeted at repositioning and regulating the water resources sector.
He said the non-passage of the Water Resources Bill however, had caused many irregularities in the sector, saying partnerships between all actors would reduce poor water governance.
"It is important to state that Water Use Licence Terms and Conditions is a critical component in the administration and issuance of Water Use Licence to applicants, as it determines the regime for proper licence usage by various applicants.
"The relevance of Water Use Licence Terms and Conditions can therefore, not be overestimated in anyway.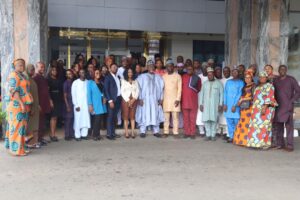 "Continuous stakeholders' engagement in the administration of Water Resources in the Country is necessary for effective and result oriented regulations, with particular reference to Water Use Licence Terms and Conditions."
Magashi noted that the Commission under his watch would leave no stone unturned in ensuring a continuous proper licensing regime.
He said it was his honest expectation that the forum would consolidate on the ongoing engagement between all tiers of government, for the purpose of appropriately managing Nigeria's water resources, through effective enforcement mechanisms.
The executive director said implementing a comprehensive regulatory regime would benefit the collective interest of the country, saying participants at the workshop could make it happen by contributing meaningfully.
Earlier, the Legal Adviser for NIWRMC, Mr Rotimi Ojegbile, said before now, the legal department had made several efforts to regularise most of the commission's documents, with little or no progress made.
Ojegbile said with the commitment of the present leadership however, the commission had made that possible, saying it was necessary for all frameworks to stand the test of time.
The legal adviser, represented by Ms. Ikemhe Ekwere-Bello, urged all participants to brainstorm and contribute meaningfully, so that water use was regulated and done properly.
Dr Emmanuel Udoh, delivering a paper on 'Optimising Water Allocation Through Revised License Terms and Conditions', said there was need for Nigeria to strengthen its weak and fragile institutions.
Udoh said climate change challenges called for appropriate measures to mitigate them, noting that though section 11 of the Water Resources Act gave individuals access to water use, it must however, be used sustainably.
He said key considerations on Revised License Terms and Conditions must include sustainability and long-term water management, through equity and fairness in water distribution.
"We must adapt to changing climatic conditions and water scarcity by integrating regulatory frameworks, such as the environmental protection and incorporating stakeholder perspectives and public participation into all aspects".
Mr Chinesonu Okpoko, a legal expert, said currently, there was no effective water resources data management system for the country.
Okpoko said the unavailability of adequate and reliable data, upon which analysis, planning, management and decision-making could be based on, had crippled the water licensing system.
The News Agency of Nigeria (NAN), reports that the Water Resources Act 2004, empowers the Minister with responsibility for matters relating to water resources, as the lead in charge of water resources development, licensing, planning, and use.
Sections 11-19 of the Act deals with issuance of water use licences, licensing fees, power to fix rates in connection with the abstraction of water, penalties and the issuing of regulations.
Water licensing plays a pivotal role in the sustainable management and allocation of water resources in Nigeria. It ensures equitable access to water, promotes efficient use, and safeguards the environment.
While challenges persist in its implementation, continued efforts to improve water licensing systems are essential for addressing water scarcity, promoting sustainable development, and protecting Nigeria's water resources. (NAN) (www.nannews.ng)
Edited by Dore