Some women who have benefitted from Young Moms support initiative, a Non Governmental Organisation
By Ibironke Ariyo
The Young Moms Support Initiative, a Non-Governmental Organisation (NGO) has trained no fewer than 1,500 women on digital skills to expand their businesses and earn decent living.
The Executive Director, Dr Vivian Sonny-Nsirim said this in an interview with the News Agency of Nigeria (NAN) on Monday in Abuja.
NAN reports that Young Moms Support initiative is supporting and empowering women and children for a better society.
The NGO birthed the largest online community of young women called the Young Moms Forum with over two million active members.
Sonny-Nsirim said that the training was free for all women who owned businesses or willing to own one.
She said that the training was to enable the beneficiaries to utilise digital tools to grow and expand their businesses.
"The training was via Zoom and Closed WhatsApp groups held from Aug. 1 to Aug. 4.
"The essence is to bring women and other marginalised groups into technology."
This, she said, would provide creative solutions and greater potentialities for innovations that meet women's needs and promote gender equality.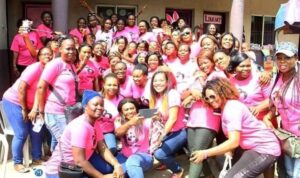 "The goal was also to expose women to online market stalls, financial tools like whatsapp applications available on Google store, to manage their business finances and records,'' she said.
Sonny-Nsirim said topics covered during the training included maximising Facebook page for business, advance use of whatsapp and Google drive, as well as graphic design.
"We want the women to understand that something as small as their android phones can go a long way in helping them to drive online traffic and achieve business growth and transformation," she added.
The executive director called for reform of the country's education curriculum with emphasis on the teaching of science and technology from primary school to stimulate critical thinking among children, including girls.
She said that technology was increasingly being misused and weaponised, with women and girls disproportionately targeted.
"This is why the NGO is investing in providing digital solutions in agriculture, health and in the fight against gender based violence.
"Rural women can now also market their products around the world without leaving their rural environment via social media platforms as they have gained extensively from the training,'' she said.
Sonny-Nsirim who holds the traditional title of Ugochinyere I of Igboland and Madubia of Uke kingdom, said a lot could be achieved when women and girls were ICT-literate.
"It will fast track their thinking and help them generate income to cater for their families," she added. (NAN) (www.nannews.ng)
==========
Edited by Gregg Mmaduakolam/Maharazu Ahmed