By Salisu Sani-Idris
A 25-year-old Nigerian filmmaker, Idorenyen Uko, has achieved academic excellence by graduating with the highest distinction from the New York Film Academy, Los Angeles (NYFA's).
The News. Agency of Nigeria (NAN) reports that Uko, who hails from Akwa ibom boasted a perfect cumulative grade point average of 4.00.
During her academic journey at the academy, Uko, directed and produced outstanding films like "Sincerely Me" and "Error Connection".
" Each of the films showcased her unique storytelling style and cinematic flair.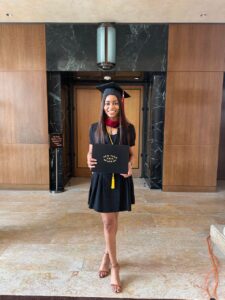 In a telephone interview with NAN on Wednesday, Uko said that her ambitious and vision extended beyond the bright lights of Hollywood.
She also expressed her passion for returning to Nigeria to revolutionise the country's film industry.
Uko said: "I aspire to create films that resonate with both Nigerian and international audiences alike.
" Our stories are unique, and it's high time they received the global recognition they rightfully deserve.
"I firmly believe we can achieve Hollywood-level production quality while staying true to our cultural roots."
According to her, she received the prestigious Summa Cum Laude distinction at NYFA's commencement ceremony, held in August.
Uko said that the event was attended by fellow graduates, faculty members, family, and friends, all gathered to celebrate her remarkable journey and promising future. (NAN) (www.nannews.ng)
Edited by Bashir Rabe Mani