By Cecilia Ologunagba
A non-governmental organisation, Civil Society Legislative Advocacy Centre (CISLAC) has presented the Sustainable Development Goal (SDG) goal 16 Shadow Report to First Lady Oluremi Tinubu.
The News Agency of Nigeria (NAN) reports that Oluremi received the report at the First Ladies High Level Forum on the margins of 78th session of the UN General Assembly in New York.
The Report focuses on measuring Nigeria's progress on SDG 16, targeting 16.4 (anti-money laundering), 16.5 (beneficial ownership), and 16.10 (access to information).
The Report, the sixth edition in a series of annual shadow reports, was prepared using a Transparency International global template to enable cross-chapter comparison among countries.
NAN reports that the launching of the report coincided with the 2023 UN Day of Peace, with the theme "Gender Actions for Peace: Ambition for Women Leaders as Key Players on Global Peace''.
In her remarks, Oluremi spoke on ways to promote peace in Africa through the vision of the First Lady Forum, noting that its their vision for committed leaders and key players in global peace
"Our continent today is rift with conflict, uncertainty and revision, and therefore it is our collective responsibility. Peace is not merely the absence of war but the presence of justice, equity, and harmony.
"Every individual, regardless of their agenda should be able to thrive in an environment free from violence and discrimination.
"The journey towards lasting peace requires dialogue, the engagement and empowerment of all members of society, in particular, women in leadership roles.
"Women bring unique perspectives, qualities, compassion and experience to the table, which can play a transformative role in conflict resolution, peace-building and sustainable development.
"Women, as activists and advocates of peace, deal with conflict, non-violently pursuing democratic and human values,'' she said.
The first lady said women as educators and as humans in development process should continue to build the capacity of their communities and nations to preventing violence conflicts.
According to her, the year 2020 marked the 20th anniversary of the adoption of the UN Security Council resolution 25 on Peace and Security.
Oluremi said that the African Union as member states had promoted the peace security agenda through several of the guidance frameworks.
"Despite the meaningful progress that has been made, women's meaningful participation in peacebuilding, efforts at implementing agenda equality in peace and security has been slow.
"As First Ladies in Africa, we play a pivotal role in driving the agenda for peace in our respective countries. As mothers of our nations, we must strive to make an impact through our various programmes to ensure justice and equality prevail.
"We have a soft power to make the impact and we must not shy away from using that power.
"We must try to promote gender equity, promote and enforce policies that ensure equal opportunities for women in all spheres of life from education to politics to business,'' she said.
The first lady, however, called for support from women in leadership, provide mentorship, training and resources to empower women to assume leadership roles and competences.
Oluremi also said the Forum should work to end violence against women, which often serves as the barrier to their full participation in society.
"We must engage men as ally, encourage men to actively support gender equality, and advocate for women's inclusion in leadership. Also revive the voices of women leaders, peace process, and decision-making bodies,'' she said.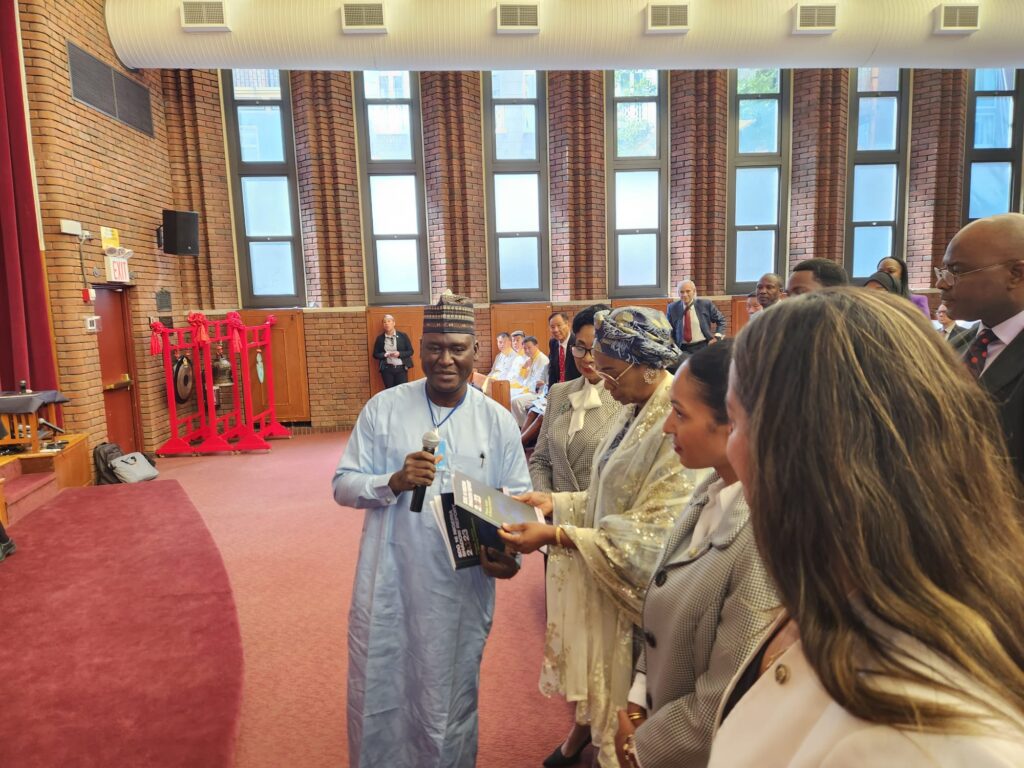 Speaking on the report, Auwal Rafsanjani, the Executive Director of CISLAC, said it was important for Nigeria to achieve the SDG 16  on strong institutions, peace, justice, and anti-corruption.
"So, we have come up with this shadow report to remind our governments of the commitments they have made to attaining sustainable development goal.
"You can only achieve this when you are able to follow through those indicators, and for this goal, we have issues around money laundry, we have issues around access to recovery, we have issues around beneficial ownership, we have issues around access to information.''
Rafsanjani said goal 16 could be achieved by blocking  leakages, stopping corruption, creating necessary avenues for information to be accessible, and ensuring that beneficial ownership register is established.
"But more importantly, you can only achieve peace and stability, when you have strong institutions, when you have stopped corruption, which undermines progress, which undermines peace and stability.
"In many countries, especially in Africa, insecurity is a major challenge. It has been a stumbling block to consolidating democracy, to having sustainable development, and to also ensure that you build a vibrant economy.
"If you do not stop corruption, insecurity will continue. If you do not stop corruption, you will continue to drain the country and a lot of problems will continue to happen.
"So that is why our organisation is reminding our government because we are civil society, there's a limit to what we can do. Our government is responsible for ensuring that it creates an enabling environment for even the peace and stability to happen," he said.
This Report is produced by CISLAC, TI Nigeria under the project which seeks to improve democratic accountability of public institutions and anti-corruption deficits by Strengthening Accountability Networks among Civil Society (SANCUS) which is supported by the European Union.
This Report is an updated assessment of the previous editions of the SDGs Shadow Report published by CISLAC in 2017, 2019, 2020, 2021 and 2022.  (NAN) (www.nannews.ng)
Edited by Ismail Abdulaziz