By Adekunle Williams
An NGO, the Ta'awun Political Forum, has sensitised students and  youths in Lagos on active participation in politics, prevention of crimes and other vices for a better Nigeria.
Mr Lasisi Taiwo, the President of the forum, made this known while delivering his keynote address at a workshop for the youth in Lagos on Tuesday.
The News Agency of Nigeria (NAN) reports that the workshop had the theme: "Nigeria @ 63: Youths and Crime Prevention for Better Nigeria."
Participants from various sectors, including schools, students, parents, lawyers, youths, and the Nigerian Police attended the workshop.
Taiwo said the workshop was organised in celebration of the country's 63rd Independence anniversary and to better expose the youth especially students to nation-building, civic responsibilities, and crime prevention in politics.
The president added that at the end of the workshop, the youth would become  trainers in their respective communities.
Taiwo explained that the workshop was aimed at preparing the youth for civic responsibilities and promoting socio-political dividends for the community.
He said: "The youths are people between the ages of 15 and 35.
"But as we all know, in Nigeria and Africa at large, Nigerian youths right from time are notable to be change agents and drivers of societal transformation.
"Thus, youths constitute Nigeria's only hope for a greater future. This is because youths' participation in politics is very much needed and essential for democratic society to function properly."
The president, therefore, urged the youths to reject political violence, religious violence, thuggery, and vandalism of public property for a better Nigeria.
Taiwo appealed to government at all levels to ensure stronger institutions, investments in manpower, and a positive shift in public attitudes toward  politics and governance.
He outlined the NGO's various initiatives, including health programmes, free education support, empowerment projects, and charitable contributions to society.
He noted that the forum's activities dated back to 2020/2021 when they actively supported the current Kosofe Local Government administration and President Bola Tinubu's presidential bid.
In spite their impactful programmes, Taiwo acknowledged that the NGO was faced with challenges, including  lack of cooperation from host communities, limited resources and government support.
He appealed to government representatives and religious leaders for sponsorship and assistance in executing life-changing projects.
Taiwo urged religious leaders to use their platforms to promote unity, love, support for government, and humanity.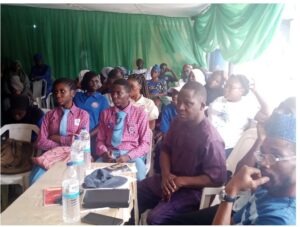 Speaking, the Chairman of Ikosi Isheri LCDA, Mrs Abolanle Bada, acknowledged the challenges and opportunities facing Nigeria's youth as the country celebrated her 63rd Independence anniversary.
Bada, represented by Mr Yunusa Salami, the Leader of Council's Legislative, said empowering the younger generation was crucial for the country's socio-political landscape.
The chairman advocated crime prevention through education, mentorship, and constructive activities.
The representative of Area H Police Command, Lagos State, Mr Raji Umaru, highlighted the importance of discipline, avoiding negative peer influences, and maintaining godly values.
Umaru clarified that while raiding was constitutional for crime prevention, bail should always be free.
A participant, Master Theophilus Kaba, student of Aje Coastal School, Ojudu explained  how the workshop had enlightened him about politics, democracy, diversity, and the importance of reducing corruption.
Kaba, however, called for unity in the Nigeria, believing it could lead Nigeria to greater heights.
NAN  also reports  that the workshop featured interactive sessions focusing on independence, growth, development, and discussions on crime prevention. (NAN) (www.nannews.ng)
Edited by Vivian Ihechu