By Olanrewaju Akojede
Jaan Roose, a 31-year old Estonian, on Thursday dazzled Lagosians with his slacklining skills on a suspended 66m (217 ft) rope tied to Sterling Towers and Onome rig, Marina, Lagos, a distance of 350 meters.
The News Agency of Nigeria (NAN) reports that Roose was sponsored by Red Bull, to delight Lagos residents with his slacklining skills.
The sport entails walking on a rope suspended above the ground, often used for balance training, recreation and moving meditation.
Roose, a three-time world champion and holder of numerous world records, was accompanied by another slackliner, Oskar Jussi, and crew members who were excited to visit Nigeria for the first time.
Roose drew the attention of commuters and residents of Central Business District (CBD), Marina, that trooped out to watch his display.
Also present at the event was the Director General, Lagos State Emergency Management Agency (LASEMA), Dr Oluwafemi Oke-Osanyitolu, and para medics, ambulance operators, among others.
Oke-Osanyitolu described slacklining by Roose as audacious and interesting.
Roose's partner, Jussi, who has been involved in slacklining for the past eight years described his experience in Nigeria as amazing.
"Having slacklining in Nigeria is amazing and this is my second experience in Africa because we have had one in Kenya and it was also pleasant.
"We are unable to have the event during the day because of the hot weather. So, we had to wait till evening.
"This is a sport that is strange in Nigeria but maybe we may have some Nigerians that may be interested in it. I don't know, but it's not really as dangerous as many would think it is.
"I started slacklining with a very small height like a knee hieght, then to a tree height, then moving upward in the heights.
"Slacklining is not what someone can start one or two years and get to the top," he said.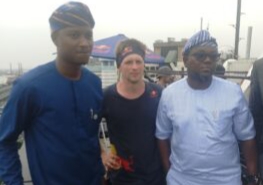 On what brought them to Nigeria, Jussi said it was a Red Bull project aimed at exploring new terrains, especially Nigeria.
"We had a lot of difficulties setting up the rope because of the traffic in Marina, also we are careful about not causing too much discomfort to the people in their offices.
"We have been in Nigeria for about four days now and the people have been amazing. I have tried to eat Nigerian dishes but its too spicy for me, maybe I will have some more bites before leaving on Friday," he said.
Some of the onlookers that spoke with NAN expressed delight seeing such bravery by the 31-year old Estonian, walking on 66m (217 ft) rope covering a distance of 350 meters.
Mr Ope Banwo, who came in company of his daughter, told NAN that though he enjoyed seeing the sport, it would be hard to see Nigerians getting involved.
"The guy is just doing what he likes, but I don't think any Nigerian will want to try something like that," he said.
His daughter, Fiyimfoluwa, said she was excited seeing the slackliner, Roose, but that the sport was too risky.
For Mrs Atinuke Agoro, she wouldn't try such sport even if she was offered N5 million.
"It is not possible for me to engage in such activity, I won't do it because I have phobia for height, but I love the experience," she said.
Also Mr Isiak Bolakale, who parked his car to observe the performance, said he wouldn't get involved in such sport for any amount.
"I enjoy the show, but I can't be part of it even with N1 billion offer," he said.
NAN reports that the event was concluded later in the evening, and the slacklining team was scheduled to return to Estonia on Friday. (NAN) (www.nannews.ng)
Edited by Salif Atojoko